Running Time:
2 hours
Rating: PG-13 Parents Strongly Cautioned.

Rating Explanation:
for moments of intense violence and sexual content.
Additional Info:
Additional DVD Features: Exclusive Robert Pattinson Spotlight; The Traveling Show - Page to Screen; Feature Performer Reese Witherspoon; Audio Commentary; Closed Caption.

CAST:
Reese Witherspoon ... Marlena
Robert Pattinson ... Jacob
Christoph Waltz ... August
Paul Schneider ... Charlie
Jim Norton ... Camel
Hal Holbrook ... Old Jacob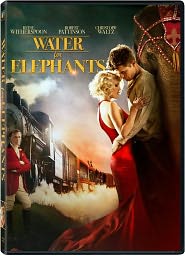 Based on the acclaimed bestseller about a traveling circus, the narrator is an elderly man named Jacob Jankowski (Hal Holbrook), who escaped from his nursing home to see the circus passing through town but arrived too late and wound up telling his tale about how a long ago catastrophe occurred to the current circus manager (Paul Schneider).

It seems that many years ago young Jake (Robert Pattinson) was about to take his final veterinarian's exam at Cornell when he's informed that his hardworking immigrant parents have been killed in a car crash. Left alone and penniless in the middle of the Great Depression, Jake sets off to look for work but instead winds up on a circus train, where Camel (Jim Norton), a kindly old hand, got him a job. Finally the circus' charismatic but volatile owner August (Christoph Waltz) makes Jake the company vet.

But trouble quickly arrives when Jake has to put down the show horse ridden by August's beautiful wife Marlene (Reese Witherspoon). But before long Jake and Marlene begin working on a new act involving thecircus' latest acquisition, an elephant named Rosie. Amazingly, Jake, who's never worked with a pachyderm before, gets Rosie to do all sorts of tricks which leads to a big finale.

Tentatively directed by music-video director Francis Lawrence, the picture is entirely too slick to capture the Depression era feeling and way too discreet to be really exciting. But, worst of all, the casting is totally wrong. Reese Witherspoon is a fine comedienne, but she comes across as brittle and unconvincing in her role and Robert Pattinson is little better. Only Christoph Waltz proves once again that he's an actor of considerable talent, but he has too little to do but shout and flash his evil, shark-like grin. While the production design, art direction and costumes are effective, Rodrigo Prieto's cinematography is glossy rather than gritty and James Newton Howard's score is simply sappy. What could have been a real winner, turns out to be somewhat disappointing.