Running Time:
2 hours, 17 minutes
Rating: PG-13 Parents Strongly Cautioned.

Rating Explanation:
for intense sequences of action/adventure violence, some frightening images, sensuality, and innuendo.
Additional Info:
2 Disc DVD Features: Disc 1 - Bloopers of the Caribbean; Lego animated shorts: Captain Jack's Brick Tales
Disc 2 - Blu-ray: Disney second screen - simultaneously explore exclusive interactive content with your iPad or computer as you watch the movie; Audio commentary - with director Rob Marshall and executive producer John DeLuca.

CAST:
Johnny Depp ... Jack Sparrow
PenÚlope Cruz ... Angelica
Geoffrey Rush ... Barbossa
Ian McShane ... Blackbeard
Kevin McNally ... Gibbs
Sam Claflin ... Philip
Stephen Graham ... Scrum
Keith Richards ... Captain Teague
Richard Griffiths ... King George
Astrid Berges-Frisbey ... Syrena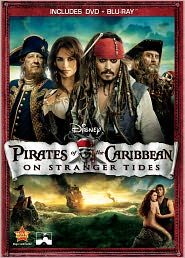 In this third sequel, Captain Jack Sparrow (Johnny Depp) is looking for the Fountain of Youth along with a lady pirate named Angelica (Penélope Cruz), a former lover of Jack's and her father, the evil pirate Blackbeard (Ian McShane). Jack doesn't have any particular motivation for getting involved in the search other than a mild interest in helping Angelica, whom he feels guilty for mistreating years ago.

Also looking for the elusive Fountain is Barbossa (Geoffrey Rush), who's sailing on behalf of England's King George (Richard Griffiths), and a boring missionary named Philip (Sam Claflin), a prisoner on Blackbeard's ship, who falls in love with Syrena (Astrid Berges-Frisbey), who is a mermaid. Oh, by the way, Blackbeard's ship is run by zombies, which actually doesn't seem to serve any purpose in the story.

The only memorable performance, other than Johnny Depp, comes from Ian McShane who's a fine choice to play Blackbeard, with his fearsome diction and dark, malevolent eyes which he puts to good use at first; but before long, he, too, is swallowed up in the frenzied, mindless action that takes up most of the film's running time of well over two hours. Director Rob Marshall ("Chicago") starts Pirates of the Caribbean: On Stranger Tides in high gear and never allows it to slow down. But it's mostly just noisy, dizzying, and senseless.