Running Time:
2 hours, 18 minutes
Rating: PG-13 Parents Strongly Cautioned.

Rating Explanation:
for some thematic material.
Additional Info:
CAST
Brad Pitt ... Mr. O'Brien
Sean Penn ... Jack
Jessica Chastain ... Mrs. O'Brien
Hunter McCracken ... Young Jack
Laramie Eppler ... R.L.
Tye Sheridan ... Steve
Fiona Shaw ... Grandmother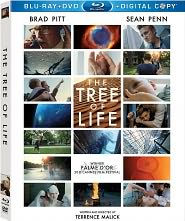 This latest film from Terrence Malick ("Days of Heaven") is a period film centered around three boys in Waco Texas in the 1950s. They are the sons of Mr. and Mrs. O'Brien (Brad Pitt and Jessica Chastain) and we follow the story of
their eleven-year-old son
Jack (Hunter McCracken), who at first finds the world to be a marvelous place. He sees everything the way his mother does, with the eyes of his soul. She represents the way of love and mercy, while his stern but loving father
tries to teach him about the way the world really is. Each parent tries to influence Jack, who must reconcile their claims. The picture darkens as he has his first glimpses of sickness, suffering and death. The world, once a place of beauty, becomes an unending labyrinth including the beginning of the world, complete with the big bang and on to a place where dinosaurs roam the earth.

Framing The Tree of Life is the story of the grown up Jack (Sean Penn); now an architect who seems to be a lost soul in the modern world, seeking to discover amid the changing scenes of time, things that never change: the eternal scheme of which we are a part. He keeps remembering the days of his childhood. These memories are occasionally idyllic, sometimes unsettling and often confusing. That's actually the way many of us remember our childhoods.
When Jack sees all that has gone into making our world the way it is, Jack, achieves a new understanding and he is able to forgive his father and take his first steps toward his future.


Terrence Malick has created a work of art that is truly unlike anything you have ever seen; a film that encompasses the familiar and the unknowable in one singular experience, in which every sequence is infused with the director's benevolent spirit and insatiable curiosity. He is constantly striving to show us something new and to present the world in a way that we haven't seen before.

The impressionistic
story ends in hope, acknowledging the beauty and joy in all things, in the everyday and above all in the family.


To order tickets: