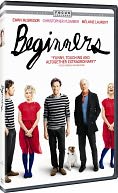 Hal (Christopher Plummer) is a museum curator and Oliver (Ewan McGregor) is a lonely, depressed cartoonist. They are father and son and they are both new at this "relationship" thing in Beginners. After the death of his wife when he is 74, Hal comes out of the closet and begins a loving relationship with Andy (Goran Visnjic), a flaky, much younger man, and equally suddenly, Hal gets a diagnosis of terminal cancer. Shortly after his father's death, Oliver meets Anna (Mélanie Laurent), a freespirited actress, and he recognizes just how much of a beginner he himself is when it comes to long-lasting romantic love. And as memories of the past mix with his new life, Oliver's relationships with both his late father and Anna deepen and become much more complex.
Director Mike Mills ("Thumbsucker") has made a beautifully shaped and shaded autobiographical drama about the opportunity to restart one's life, at any age, to make a place for happiness. His approach to moviemaking reflects his training as an artist and graphic designer and he gives the drama a pleasantly homey feel throughout. The movie darts, dreams, and sometimes seems to dance.

The always reliable Christopher Plummer creates an inspiring, fully rounded man in late bloom, and Ewan McGregor responds with a performance to match, particularly in his scenes with Mélanie Laurent. Also most appealing is Hal's Jack Russell terrier Cosmo that Oliver adopts after his dad's death. True, Cosmo is both incredibly cute and photogenic, and the actors seem to be enjoying him immensely. And, there's little doubt that you will, too.