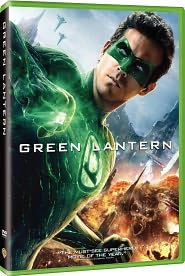 After discovering a s
trange green ring from a dying alien, the
talented but unreliable
test pilot Hal Jordan (Ryan Reynolds) is quickly whisked off to the planet of Oa to be trained as one the elite Green Lantern Corps.
Endowed with newfound power, Hal arrives on the Lantern planet of Oa, only to be met by the disapproving Sinestro (
Mark Strong
), a high-ranking commander unconvinced by Halís fortitude. However with a planet destroying evil named Parallax roaming through the galaxy, and misunderstood scientist Hector Hammond (
Peter Sarsgaard
) acting as the malevolent forceís puppet on earth, Hal is forced to disregard his doubters and fight for both his home and Carol Ferris (
Blake Lively
), the woman he loves.
The major problem with Green Lantern is that the main character suffers from goofy origins and a basic lack of complexity. This lack of depth is particulalrly troubling because all we get are generic daddy issues and a growing intimacy with the sexy Carol Ferris. Halís supposed inner demons never become convincing for a second. There are also too many other characters who pop up all over the place.

Ryan Reynolds is a decent leading man, but nobody else is given enough time to make any impression. Blake Lively looks gorgeous but she portrays nothing more than a romantic interest, while talented performers such as Mark Strong, Tim Robbins and Geoffrey Rush have almost nothing to do. Both of the villains are unintimidating, one being a giant gas cloud, the other a sniveling nerd with a laughably enlarged head. Directed by Martin Campbell ("Casino Royale") who's working with a screenplay that is so muddled that the picture constantly feels confused and saggy. Cutting between its multiple subplots with little respect for pacing or tone, this is little more than a lifeless, noisy, overproduced, and underwritten special effects movie. Don't expect to see sequels coming along any time soon.