Running Time:
1 hour, 38 minutes
Rating: PG-13 Parents Strongly Cautioned.

Rating Explanation:
for brief strong language and some sexual content
Additional Info:
DVD Features: Deleted scenes; The making of Larry Crowne; Fun on set.

CAST:
Tom Hanks (Larry Crowne)
Julia Roberts (Mercedes Tainot)
Bryan Cranston (Dean Tainot)
Cedric the Entertainer (Lamar)
Taraji P. Henson (B'Ella)
Gugu Mbatha-Raw (Talia)
Wilmer Valderrama (Dell Gordo)
Pam Grier (Frances)
George Takei (Dr. Matsutani)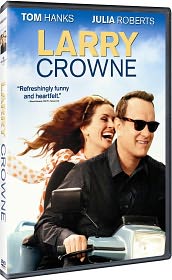 Larry Crowne (Tom Hanks) is a middle-aged divorced guy who spent twenty years as a Navy cook and now relishes his job as a clerk in a WalMart-type big box store. He's shocked one morning when he's let go because, he's told, he hasn't been to college and so can't be promoted. So he enrolls in the local community college where, at the suggestion of a friendly dean, he signs up for a course in public speaking, taught by Mercedes Tainot (Julia Roberts), a woman depressed with her career but especially by her marriage to a lazy good-for-nothing (Bryan Cranston).

Needless to say, college changes Larry's life—though he's already begun the process on his own by trading in his gas-guzzling SUV for a motor scooter. He quickly becomes the star of Ms. Tainot's class, despite a bunch of cute, cuddly students, but when Larry rescues her after she jumps from her husband's car after a tiff, by offering her a seat on his scooter, romantic sparks begin to fly.

His second class has its effect on Larry too, not only in the instruction of the pompous Dr. Matsutani (George Takei), but also the presence of Talia (Gugu Mbatha-Raw), who takes a liking to Larry and not only gives him a new name ("Lance Corona") but invites him to join the "nice" biker club headed by her boyfriend Gordo (Wilmer Valderrama). She also rearranges his furniture in feng shui style, gives him a new hairstyle, and remakes his uncool wardrobe.

The movie, directed by Tom Hanks wants to say a little something about workers hit by the current recession, but in that respect it doesn't completely succeed. Sure, Larry turns his house back to the bank, gets rid of his SUV and moves into an apartment, but he doesn't appear to have any problem with tuition, and quickly finds a job as a short-order cook in a diner owned by his friend Frank (Ian Gomez) and the transformation scene involving Talia is a bit unbelievable, and the Larry-Mercedes romance comes off as one of those manipulative concoctions that also hits a few false notes. But it's a fact that a movie with the star chemistry of Tom Hanks and Julia Roberts can't help but being entertaining, and that's what Larry Crowne is, for sure.