Running Time:
1 hour, 49 minutes
Rating: PG Parental Guidance Suggested.

Rating Explanation:
for brief mild language
Additional Info:
CAST:
Selena Gomez ... Grace
Katie Cassidy ... Emma
Leighton Meester ... Meg
Cory Monteith ... Owen
Andie MacDowell ... Pam
Brett Cullen ... Robert
Amanda Fairbank-Hynes ... Amanda
Luke Bracey ... Riley
Valérie Lemercier ... Madame Valerie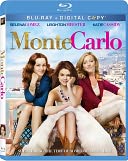 Selena Gomez plays Grace, a down-to-earth Texas hig
h-school grad who's been dreaming of a trip to Paris forever. She's happy to be accompanied by her free-spirited best chum Emma (Katie Cassidy), but nonplussed when her parents (Andie MacDowell and Brett Cullen) and her uptight stepsister Meg (Leighton Meester) decide to go along too. Their time in Paris turns out to be mostly a bust until Grace is mistaken for a British heiress named Cordelia Winthrop-Scott, a self-absorbed snob who abruptly decides to ditch her commitment to go to Monte Carlo for a charity auction. So although they have some doubts about what they're doing, the three girls decide to go in her place.

Once there, Grace gets involved with Theo (Pierre Boulanger), the handsome son of the foundation that will benefit from the auction of Winthrop-Scott's emerald necklace. Meg loosens up under the charming influence of
Riley (Luke Bracey) a handsome Australian
and though Emma doesn't make a local catch, her home-town boyfriend, Owen (Cory Monteith), who objected to her going to Paris, arrives on the continent to win her back.

There are all sorts of practical complications, of course. especially when Cordelia's aunt Alicia (Catherine Tate) shows up. And that fabulous necklace winds up missing after Emma decides to wear it on a date with a prince. And of course Winthrop-Scott turns up herself at the last moment, threatening to have the girls arrested. But be assured things turn out fine in the end.

The good things about Monte Carlo, directed by Thomas Bezucha ("The Family Stone") are purely visual. There are the beautiful locations, of course, including some in Budapest that stand in for Monte Carlo, which are nicely shot in widescreen and there are some good looking guys, who needless to say, have little talent other than their looks, but actually, neither do the women.