Running Time:
2 hours, 10 minutes
Rating: PG-13 Parents Strongly Cautioned.

Rating Explanation:
some sequences of intense action violence and frightening images
Additional Info:
DVD includes additional scenes.

CAST:
Daniel Radcliffe ... Harry
Rupert Grint ... Ron
Emma Watson ... Hermione
Robbie Coltrane ... Hagrid ...
Ralph Fiennes ... Voldemort
Helena Bonham Carter ... Bellatrix
Alan Rickman ... Snape
Maggie Smith ... Minerva McGonagall
Based largely around the propulsive action of the Battle of Hogwarts, and lending just enough time to nostalgia without getting bogged down in history, Harry Potter and the Deathly Hallows Part 2 may be the best Potter film yet, and in some ways even improves on the book.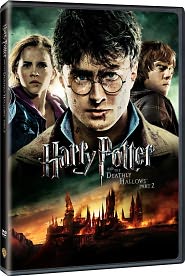 The film opens with a very swift recap of how Part 1 ended, as Voldemort (Ralph Fiennes) gets his hands on the Elder Wand from Dumbledore's tomb, one of the three components of the Deathly Hallows that will grant him unstoppable power, while Harry, Ron and Hermione (Daniel Radcliffe, Rupert Grint and Emma Watson) take refuge at Bill Weasley's seaside cottage. They are still searching for the remaining Horcruxes, the objects that contain pieces of Voldemort's soul, and destroying them is the only way to kill him.

All the familiar faces are here again, from Harry's old flame Cho Chang (Katie Leung) to Hagrid (Robbie Coltrane), the treacherous Snape (Alan Rickman) now installed as headmaster, to the imperious Professor McGonagall (Maggie Smith), who's now the heroic face of Hogwarts and gets several great moments to prove it. As Harry seeks out the remaining Horcruxes and Voldemort, with his army of Death Eaters, descends upon the castle to stop him, a controlled chaos emerges; huge spiders, werewolves and giants are only among the beasts that lay waste to Hogwarts, while stone soldiers and many wizards fight to protect it.

Director David Yates manages to control it all with remarkable agility, cross-cutting the many subplots with fierce fighting scenes, and even more impressively the 3D never makes the action murky, even though most of these scenes take place at night. It is all a fitting culmination to a monumental achievement.