Running Time:
2 hours, 1 minute
Rating: PG-13 Parents Strongly Cautioned.

Rating Explanation:
for intense sequences of sci-fi violence and action.
Additional Info:
Added DVD Features: Marvel one-shot: a funny thing happened on the way to Thor's hammer; The assembly begins; 6 featurettes; 4 deleted scenes; Commentary by director Joe Johnson, director of photography Shelly Johnson and editor Jeffrey Ford.

CAST:
Chris Evans ... Steve Rogers
Hayley Atwell ... Peggy Carter
Sebastian Stan ... Bucky Barnes
Tommy Lee Jones ... Col. Phillips
Dominic Cooper ... Howard Stark
Stanley Tucci ... Dr. Erskine
Samuel L. Jackson ... Nick Fury
Toby Jones ... Dr. Arnim Zola
Richard Armitage ... Heinz Kruger
Hugo Weaving ... Johann Schmidt / Red Skull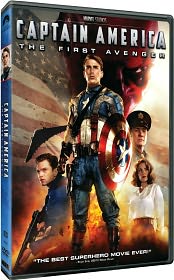 During WWII Steve Rogers (Chris Evans) wants nothing more than to serve his country, but he's too frail and weak so he volunteers to participate in an experimental program that scientist, Dr. Abraham Erskine (Stanley Tucci) has created. As a result, Steve is newly muscled, with superhuman strength and speed. Unfortunately a spy witnesses the experiment, shoots and kills the doctor, and leaves Steve with not much future. So, he takes a job as Captain America, performing on stage and selling war bonds. While visiting the front lines , he learns that his best pal Bucky (Sebastian Stan) has gone missing and is presumed dead. Steve assembles a team and goes on a rescue mission, bringing back Bucky and a couple of hundred other captured soldiers.

He also attempts to stop the sinister Red Skull (Hugo Weaving) from destroying the world. Along the way we meet a gorgeous girl soldier Peggy Carter (Hayley Atwell), the spiky Colonel Chester Phillips (Tommy Lee Jones), Red Skull's assistant (Toby Jones), Iron Man's dad Howard Stark (Dominic Cooper) and Derek Luke and Neal McDonough as members of Captain America's team, and Samuel L. Jackson as Nick Fury.

Director Joe Johnston ("The Wolfman") a former visual effects specialist who won an Oscar for Raiders of the Lost Arc has made an entertaining summer movie complete with fast-paced, exciting action sequences and the whole movie looks great, particularly the 1940s-era production design. Too bad that Chris Evans isn't a better actor. He was clearly hired for his good looks and bulging muscles, and for Captain America who needs anything more.