Running Time:
1 hour, 58 minutes
Rating: PG-13 Parents Strongly Cautioned.

Rating Explanation:
for intense sequences of western and sci-fi action and violence, some partial nudity and a brief crude reference.
Additional Info:
CAST:
Olivia Wilde ... Ella
Harrison Ford ... Col. Dolarhyde
Daniel Craig ... Lonergan
Sam Rockwell ... Doc
Clancy Brown ... Meacham
Paul Dano ... Percy Dolarhyde
Keith Carradine ... Sheriff Taggart
Adam Beach ... Nat Colorado
Abigail Spencer ... Alice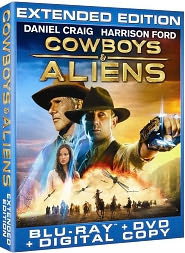 In the Arizona Territory i
n 1873,
Jake Lonergan
(Daniel Craig),

a stranger

with no memory of his p
ast, stumbles into the hard desert town of Absolution. The only hint to his history is a mysterious shackle that encircles one wrist. What he discovers is that the people of Absolution don't welcome strangers, and nobody makes a move on its streets unless ordered to do so by the iron-fisted Colonel Woodrow Dolarhyde (Harrison Ford).



Absolution is

a town that lives in fear, but it is about to experience a fear that it can scarcely comprehend as the desolate city is attacked by marauders from the sky. Screaming down with breathtaking velocity and blinding lights to abduct the helpless one by one. Suddenly, the stranger they rejected is their only hope for salvation. As this gunslinger slowly starts to remember who he is and where he's been, he realizes he holds a secret that could give the town a fighting chance against the alien force.

With the help of Ella (Olivia Wilde), an elusive traveler,

Dolarhyde and his boys, outlaws and Apache warriors, form

a posse comprised of former opponents - all of them in danger of annihilation. United against a common enemy, they prepare for an epic showdown for their survival.

Director Jon Favreau ("Iron Man") one of Hollywood's most reliable

directors of action movies has made a a fairly decent time-waster, and you

could do a lot worse this summer, but Cowboys and Aliens should have conjured more of a

sense of fun, instead of simply being a pleasant summer pastime.