Running Time:
1 hour, 57 minutes
Rating: PG-13 Parents Strongly Cautioned.

Rating Explanation:
for coarse humor, sexual content and language
Additional Info:
Additional DVD Features: Deleted scenes.

CAST:
Steve Carell ... Cal
Ryan Gosling ... Jacob
Julianne Moore ... Emily
Emma Stone ... Hannah
Analeigh Tipton ... Jessica
Jonah Bobo ... Robbie
Joey King ... Molly
Marisa Tomei ... Kate
Beth Littleford ... Claire
John Carroll Lynch ... Bernie
Kevin Bacon ... David Lindhagen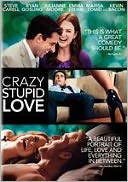 Cal Weaver (Steve Carell), a rather drab but pleasant
executive is shocked when Emily (Julianne Moore), his wife of 25 years, suddenly announces that she wants a divorce. Numb and bewildered, Cal leaves home for a dreary apartment while the fifteen-year old family babysitter Jessica (Analeigh Tipton) nurses a crush on him. Meanwhile his thirteen-year old son Robbie (Jonah Bobo) nurses an equally strong crush on Jessica. When Cal begins spending an inordinate amount of time sulking at a local club, he's noticed by Jacob Palmer (Ryan Gosling), a womanizing stud with a chain of snappy come-on lines. Taking pity on the schlub, Jacob remakes Cal, instructing him on his wardrobe and haircut and teaching him how to pick up women, the first conquest being a desperate—and enthusiastic—lady (Marisa Tomei). But that success leads to a string of one-night stands.

But of course Cal's still pining over Emily, and her dalliance with a haplessly smitten co-worker (Kevin Bacon) proves considerably less satisfying than either of them had hoped. Meanwhile the babysitter decides to declare her interest in Cal in a fashion that boomerangs when her parents find out, and Robbie's efforts to woo her escalate. But when Jacob finds true love in Hannah (Emma Stone), a young lawyer who's rejected his advances in the past but succumbs after being romantically disappointed by her clueless boss, she asks Cal for advice about how to win over her parents. Everything comes to a head as Robbie's middle-school graduation approaches, but rest assured all the characters end up properly together in the end.

The well written script by Dan Fogelman ("Cars") directed by Glenn Ficarra and John Requa
("I Love You Philip Morris")
discreetly handles matters that in other hands could easily have turned coarse and Steve Carell handily anchors the film demonstrating his comedic skill, but also giving him moments of sad-sack drama as well. A buffed-up Ryan Gosling handles the part of his slick but vulnerable mentor with aplomb, and Marisa Tomei is positively ferocious as a woman scorned. Although Crazy, Stupid, Love requires you to swallow a few unlikely twists toward the end, it's all so well put together and engagingly acted, that it's all pleasantly enjoyable.