Running Time:
1 hour, 45 minutes
Rating: R Restricted. Under 17 Requires Accompanying Adult.

Rating Explanation:
for pervasive strong crude sexual content and language, some graphic nudity and drug use.
Additional Info:
Added DVD Features: Deleted scenes ; Hilarious gag reel ; The making of The Change-up; Feature commentary.

CAST:
Ryan Reynolds ... Mitch Planko
Jason Bateman ... Dave Lockwood
Leslie Mann ... Jamie Lockwood
Olivia Wilde ... Sabrina McArdle
Alan Arkin ... Mitch's Dad
Mircea Monroe ... Tatiana
Gregory Itzin ... Flemming Steel
Ned Schmidtke ... Ted Norton
Lo Ming ... Ken Kinkabe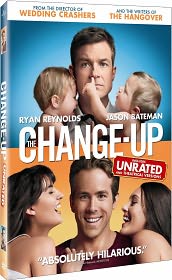 Two unlikely best friends: hard-working c
orporate lawyer and dedicated husband/father Dave Lockwood (Jason Bateman) and overage slacker/womanizer Mitch Planko (Ryan Reynolds) finish off a boy's night out by relieving themselves in a public fountain and saying how much each envies the other's life. Next morning they've been magically transported into each other's bodies.

So Mitch must step into Dave's shoes to finish the big merger on which his promotion depends while learning to be a husband to Jamie (Leslie Mann), while Dave has to take over Mitch's job in the adult-film business. Added wrinkles concern Mitch's estranged father (Alan Arkin), who's getting remarried and wants his son to attend the wedding, and Dave's sexy co-worker Sabrina (Olivia Wilde), who's caught Dave's eye despite his commitment to fidelity.

Naturally in the end both guys realize what's really important in life and seek to change themselves back by urinating again in that magical fountain, which, in a particularly goofy plot device, has been disassembled and transported from the park, indoors to a busy shopping mall.

The Change-Up, limply directed by David Dobkin (Wedding Crashers") is set in Atlanta, but most of it appears to have been shot on drearily anonymous California sound stages. Still, the cinematography is first rate, in a straightforwardly sitcom way, and the other technical credits are equally professional, but that's the best that can be said for this silly but
occasionally rather amusing comedy.