Running Time:
2 hours, 17 minutes
Rating: PG-13 Parents Strongly Cautioned.

Rating Explanation:
for thematic material
Additional Info:
CAST:
Emma Stone ... Eugenia Phelan
Viola Davis ... Aibileen Clark
Bryce Dallas Howard ... Hilly Holbrook
Octavia Spencer ... Minny Jackson
Jessica Chastain ... Celia Foote
Ahna O'Reilly ... Elizabeth Leefolt
Allison Janney ... Charlotte Phelan
Cicely Tyson ... Constantine Jefferson
Mike Vogel ... Johnny Foote
Sissy Spacek ... Missus Walters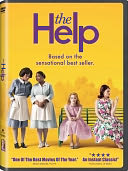 The movie
based on the best selling book by
Kathryn Stockett
focuses on a black housekeeper named Aibileen Clark (Viola Davis) in 1960s Mississippi. Treated as a second-class citizen and just trying to make it through the day, Aibileen's life manages to get even worse when her employers friend, Hilly Holbrook (Bryce Dallas Howard), informs Aibileen that she intends to build a bathroom outside of the house for the help to use. Outraged, Aibileen begins to tell her stories to a young journalist (Emma Stone).

D
irector Tate Taylor ("Pretty Ugly People") who also adapted the script successfully lets the film be moving despite its many comic moments, highlighted by a number of
brilliant performances from its incredible cast. Bryce Dallas Howard playing the film's central antagonist, is so great that you will probably feel the urge to jump onto the screen and punch her in the face. Octavia Spencer, who plays Aibileen's best friend, a fellow housekeeper, plays the dramatic and comedic elements of her character perfectly and has an outstanding dynamic with Jessica Chastain, who plays her bubbly, airheaded employer. Sissy Spacek is another stand-out as Hilly's senile mother, but it's Viola Davis that you'll never forget.

While the pacing is superb – an impressive feat for a movie that runs for well over two hours, but, in addition to never allowing the plot feel overbearing, it
manages to present some amazing contrasts. One moment you're laughing at a child going to the bathroom in an unplugged toilet sitting on someone's lawn and the next you're watching the child's mother spank it for misbehaving.

While some men may look at this female-driven story and think that there's nothing here for them, but they are absolutely wrong.
The Help
is a movie made for all audiences and it's one you won't want to miss.