Running Time:
1 hour, 41 minutes
Rating: R Restricted. Under 17 Requires Accompanying Adult.

Rating Explanation:
for bloody horror violence, and language including some sexual references
Additional Info:
Extra DVD Features: Bloopers; Kid Cudi "No One Believes Me" Music Video (Uncensored Version); Squid Man - Extended & Uncut.

CAST:
Anton Yelchin ... Charley Brewster
Colin Farrell ... Jerry
Toni Collette ... Jane Brewster
David Tennant ... Peter Vincent
Imogen Poots ... Amy
Christopher Mintz-Plasse ... Ed
Dave Franco ... Mark
Reid Ewing ... Ben
Will Denton ... Adam
Sandra Vergara ... Ginger
Emily Montague ... Doris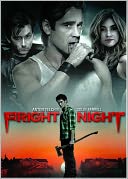 Fright Night is a remake of the similarly titled 1985 horror film, now set in a world in which the Twilight books exist, but vampires are beer-drinking handymen rather than brooding teens. These vampires are not necessarily cooler than anybody else, but they are one jump ahead. The film is basically a delightfully wry cat-and-mouse game as the heroes search for vampire rules online, and the vampires simply change them on a whim.

Set in a Las Vegas suburb, Charley (Anton Yelchin) is a nerdy high school senior with a pretty new girlfriend (Imogen Poots), who works hard to leave behind his past. Unfortunately, one of Charley's extra-geeky old friends, Ed (Christopher Mintz-Plasse) shows up, claiming that Charley's mysterious new neighbor, Jerry (Colin Farrell), is a vampire. Charley tries to ignore this information, but after Ed disappears, he begins investigating and finds some horrifying evidence. Unfortunately, he finds he has a difficult time getting folks to believe him. He even tries to recruit a local stage magician and self-proclaimed vampire hunter, Peter Vincent (David Tennant) to help him, but, ultimately, Charley has no choice but to face Jerry himself. The breezy direction by Craig Gillespie ("Lars and the Real Girl") allows plenty of room for the actors, especially a hammy David Tennant to stretch out and shine.

Fright Night is a top-notch mixture of horror and dark comedy that easily trumps the original, which for its time it was pretty good. The mood is funny and playful, like a really good late-night movie on cable TV. Of course, inevitably there are some miscalculations. The biggest is the overdone finale, which turns into kind of an overheated mess, leading to an implausibly everything-is-fine finish. And some of the transformation sequences are cheesier that others. But overall it delivers the goods, if you donít mind a little too much gore.