Running Time:
2 hours, 19 minutes
Rating: PG-13 Parents Strongly Cautioned.

Rating Explanation:
for sequences of intense mixed martial arts fighting, some language and thematic material.
Additional Info:
Added DVD Features: Closed Caption; Feature audio commentary with filmmakers and actor Joel Edgerton; Redemption: Bringing Warrior to Life documetary; Philosophy in Combat: Mixed martial arts strategy; Simple believe: A tribute to Charles "Mask" Lewis, Jr. ; -Cheap shots: Gag reel; Brother vs. Brother: Anatomy of the fight; The Diner: Deleted scenes with Tom Hardy and Nick Nolte (with optional commentary); Selected scene on-camera commentary with filmmakers and Nick Nolte.

CAST:
Joel Edgerton ... Brendan
Tom Hardy ... Tommy
Nick Nolte ... Paddy Conlon
Jennifer Morrison ... Tess Conlon
Frank Grillo ... Frank Campana
Kevin Dunn ... Principal Zito
Maximiliano Hernández ... Colt Boyd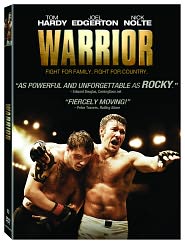 Brendan (Joel Edgerton) and Tommy (Tom Hardy) are estranged brothers who find themselves separately training for the same mixed martial arts championship fight, in which the winner gets a $5 million prize. Brendan is a family man living in the Philadelphia suburbs with his wife (Jennifer Morrison) and two daughters, earning a living as a high school teacher but sparring in parking lot bouts to make extra cash, a hobby he promised his wife he'd quit.

Tommy, who lives in a small mining town in western Pennsylvania, has returned home from war under mysterious circumstances, showing up on his father's doorstep expecting the violent alcoholic he grew up with but finding a 1,000 days sober, broken down old man (Nick Nolte) instead. Brendan's wife learns that Tommy's started
mixed martial arts
training at the local gym with his father. It's the same training they did together when Tommy was a high-school wrestling star. But in this fractured family, neither brother knows that the other one will be at the
championship
.

While both Brendan and Tommy refuse to reconcile with either their dad or each other, i
t's only Paddy (Nick Nolte) who wants reconciliation between his sons.
The only thing Brendan and Tommy can agree on is how much they hate their father. What makes Warrior so affecting is the movie's top notch performances. Joel Edgerton is sympathetic but never mawkish as the put-upon family man while Tom Hardy is feral and violent making the fights hum with intensity and passion, so much so that it's sometimes a little hard to watch the incredible violence. At nearly two and a half hours, Warrior directed by Gavin O'Connor ("Miracle") feels an hour shorter than that, clipping along through conflict both physical and mental, despite its familiar sports movie formula. This is a
uniquely affecting
tale of
self-discovery and redemption
. It's far better than most run-of-the-mill sports movies.