Running Time:
1 hour, 31 minutes
Rating: PG-13 Parents Strongly Cautioned.

Rating Explanation:
for mild sexual references throughout.
Additional Info:
CAST:
Sarah Jessica Parker ... Kate
Pierce Brosnan ... Jack Abelhammer
Greg Kinnear ... Richard Reddy
Christina Hendricks ... Allison Henderson
Kelsey Grammer ... Clark Cooper
Seth Meyers ... Chris Bunce
Olivia Munn ... Momo Hahn
Jane Curtin ... Marla Reddy
Mark Blum ... Lew Reddy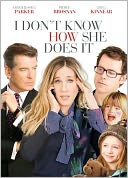 Kate Reddy (Sarah Jessica Parker) is a hard-working, bright executive at a Boston investment firm headed by Clark Cooper (Kelsey Grammar). But she has a back-stabbing rival in Chris Bunce (Seth Meyers), still, her bosses have enough confidence in her that they send her out on a lot of important business trips, leading to frequent absences from home. Her husband Richard (Greg Kinnear), an architect who chose to start his own firm at just the wrong time, is affectionate and supportive, but her young daughter (Emma Rayne Lyle) resents her being away so much, and Kate regrets missing important moments in the life of her two-year old son (Julius and Theodore Goldberg),
because heís so often in the care of a nanny.


A major crisis occurs when Kate gets the opportunity to work on a proposal for a fund aimed at retirees with New York-based legend Jack Abelhammer (Pierce Brosnan). That means even more traveling, and just when Richard lands his first major contract. Kateís struggle to meet both her domestic and professional responsibilities becomes the basis of the story, though thereís a subplot about how the divorced Abelhammer finds her so charming that he begins to fall for her.

The major problem here is that Sarah Jessica Parker doesnít make Kate a very interesting person. Pierce Brosnan and Greg Kinnear are both believable, but their devotion to Kate stretches credulity, given her many irritating habits. Jane Curtin as her insensitive mother-in-law seems an odd choice to play an old-fashioned scold and Busy Phillips is a boorish bore as the loudest mother at the kidsí school. The best thing about the movie is Olivia Munn, who plays Kateís single-mindedly ambitious secretary Momo. Her one-liners are biting and she delivers them perfectly.

Directed with little flair by Douglas McGrath, this chick flick feels thirty years behind the times.
L
ighthearted social commentary is often difficult to pull off and I Donít Know How She Does It doesnít do it very well.