Running Time:
2 hours, 5 minutes
Rating: PG-13 Parents Strongly Cautioned.

Rating Explanation:
for some strong language.
Additional Info:
CAST:
Brad Pitt ... Billy Beane
Jonah Hill ... Peter Brand
Philip Seymour Hoffman ... Art Howe
Robin Wright ... Sharon
Chris Pratt ... Scott Hatteberg
Stephen Bishop ... David Justice
Brent Jennings ... Ron Washington
Ken Medlock ... Grady Fuson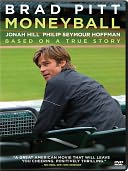 Billy Beane (Brad Pitt), is the general m
anager of the Oakland A's, who watches as his cash-strapped team loses to the New York Yankees in the 2001 playoff series and his three star players are bought away by richer competitors. Beane, was a hotshot high school player, but he gave up a Stanford scholarship to sign with the Mets, only to have a disappointing career that he's hoping to rebuild. But when traditional methods of choosing players doesn't seem to be working, he hires
an Ivy League numbers-cruncher -
Peter Brand (Jonah Hill), who's developed a system for picking players based on statistics-driven submetrics rather than old-fashioned scouting.


Moneyball
is largely about how Beane insists on using Brand's method, hiring unlikely players in the face of stiff opposition from his old-line staff, including manager Art Howe (Philip Seymour Hoffman), and incredulity from fans and commentators alike, particularly when his refashioned team takes the field and proceeds to lose. Of course their fortunes eventually change, and what happened is a matter of historical record.

Baseball is merely the backdrop to this character study of a man who's instrumental in changing the fundamentals not of the game itself, but of the way it's managed and Brad Pitt gives one of his best performances in the lead. The script adroitly adds a subplot about his domestic disappointments, with Robin Wright in what is essentially a cameo as his ex-wife and Kerris Dorsey as his daughter, who exhibits a wisdom beyond her years.

There are also a number of hilarious sequences where Beane squares off against the entrenched scouting staff led by Grady Fuson (Ken Medlock). With its smart script by Steven Zaillian ("Schindler's List") and Adam Sorkin ("Social Network") and fast paced direction by Bennett Miller ("Capote"), this is a film about faith and risk and the enormous rewards of both, and it is somehow far more entertaining than you would imagine. It's a real winner.