Running Time:
2 hours, 6 minutes
Rating: PG Parental Guidance Suggested.

Rating Explanation:
for mild thematic material, some action/peril and smoking
Additional Info:
CAST:
Ben Kingsley ... Georges Méliès
Sacha Baron Cohen ... Inspector
Asa Butterfield ... Hugo Cabret
Chloë Grace Moretz ... Isabelle
Ray Winstone ... Uncle Claude
Emily Mortimer ... Lisette
Christopher Lee ... Monsieur Labisse
Helen McCrory ... Mama Jeanne
Michael Stuhlbarg ... Rene Tabard
Frances de la Tour ... Madame Emilie
Richard Griffiths ... Monsieur Frick
Jude Law ... Hugo's Father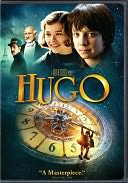 Based on a novel by Brian Selznick, this is the story of an orphan boy abandoned in Paris in the 1930s. Hugo Cabret (Asa Butterfield) was raised by his father (Jude Law) to be a clockmaker, just as his father was, and the two of them shared a private language defined by this world of clockwork and machines. Hugo's father brought home one item in particular that he found collecting dust in storage at a museum, and together, they worked to restore this automaton, a mysterious mechanical man, to working order. When his father died, the project was still unfinished, and since then, Hugo's been hiding in the massive train station, working on it, doing whatever he has to do to stay free.

Constantly hiding from the Station Inspector (Sacha Baron Cohen), who would love nothing more than to send him to an orphanage, Hugo befriends a toy seller, Georges Melies (Ben Kingsley) with a secret past. The first half of the film gradually draws Hugo and Papa Georges together, and it's Isabelle (Chloe Grace Moretz)
,
a young girl who makes it her mission to help Hugo,
who becomes the bridge between them. She befriends Hugo when he's caught stealing from the toy booth, and she slowly draws out the details of Hugo's story, never realizing that she's living with the answer to Hugo's mystery.

During the entire first half of the film, director Martin Scorsese takes tangible pleasure in laying out the geography of Hugo's secret world inside the walls of the train station, and in using his camera to fly around this incredible location. Although Hugo is an entirely artificial movie, that's part of what makes it so beautiful.

It's in the second half of the film that it goes from good to great, and it also reveals itself as one of the most intensely personal films Marin Scorsese has ever made, as central to an understanding of him as an artist as any of his early classics like Mean Streets or Raging Bull. This is a deliberate choice, in a movie built on planes and a pop-up storybook city where you can get lost between the cogs in the clockwork. Hugo is simply a magical, masterpiece of imaginative film making.
To order tickets: