Running Time:
2 hours, 7 minutes
Rating: R Restricted. Under 17 Requires Accompanying Adult.

Rating Explanation:
for violence, some sexuality/nudity and language Synopsis:
Additional Info:
CAST:
Gary Oldman ... George Smiley
Toby Jones ... Percy Alleline
Mark Strong ... Jim Prideaux
John Hurt ... Control
David Dencik ... Toby Esterhase
Ciarán Hinds ... Roy Bland
Colin Firth ... Bill Haydon
Kathy Burke ... Connie Sachs
Benedict Cumberbatch ... Peter Guillam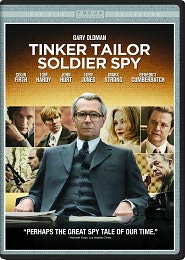 Based on the best selling John le Carré novel Tinker Tailor Soldier Spy that was previously adapted into a seven-hour BBC miniseries. In it "The Circus," as MI6 is referred to several times throughout the film, is in shambles. They've been labeled a leaky ship by their American colleagues, and Control (John Hurt), has gone so far as to assert that there may be a mole in their midst. So he sends Jim Prideaux (Mark Strong) to Budapest to meet the person who knows the identity of the double agent working for the Russians and who holds a powerful position within British intelligence.

Civil servant Oliver Lacon (Simon McBurney) secretly brings back the recently retired George Smiley (Gary Oldman), to run the investigation. With his right-hand-man Peter Guillam (Benedict Cumberbatch), they soon discover that the traitor has to be one of four men: new Circus chief Percy Alleline (Toby Jones), the charismatic Bill Haydon (Colin Firth), Hungarian-born Toby Esterhase (David Dencik) or Alleline's ally Roy Bland (Ciarán Hinds). Together they have been designated Tinker, Tailor, Soldier, Spy.
Directed by Tomas Alfredson ("Let The Right One In"), this is more than anything else a film about betrayal. Betrayal of country, betrayal of friends, betrayal of colleagues, of lovers, of people who trust you, and others who don't. And Alfredson doesn't shy from showing the brutal consequences of this betrayal, whether emotional or physical. The only problem with the film come in the form of a couple of key plot points that are never satisfactorily explained and the ending of the film, which, without giving anything away, wraps its storylines up a bit too neatly.