Running Time:
2 hours, 40 minutes
Rating: R Restricted. Under 17 Requires Accompanying Adult.

Rating Explanation:
for brutal violent content including rape and torture, strong sexuality, graphic nudity, and language
Additional Info:
CAST:
Daniel Craig ... Mikael Blomkvist
Rooney Mara ... Lisbeth
Christopher Plummer ... Vanger
Steven Berkoff ... Frode
Robin Wright ... Erika Berger
Stellan Skarsgård ... Martin Vanger
Yorick van Wageningen ... Bjurman
Joely Richardson ... Anita Vanger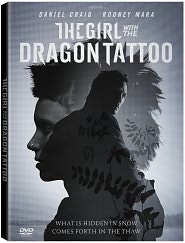 The film opens on windswept
Hedeby
Island, home of the wealthy industrial Henrik Vanger (Christopher Plummer) and his fractious family. A murder investigation is under way, led by disgraced journalist Mikael Blomkvist (Daniel Craig) and his testy punk assistant Lisbeth Salander (Rooney Mara).


After Blomkvist's trial for libel, he reluctantly travels up to Hedeby to accept an unusual assignment from Vanger, who 40 years later is still obsessed over the unsolved murder of his niece Harriet. There's reason to suspect someone in the family did it, and as Blomkvist gets more tangled in the Vanger family web the story flips between him and Salander, a private investigator and hacker assigned at first to do a background check on Blomkvist. That's the only connection between the characters for a long time, as Salander deals in her own violent way with her abusive legal guardian while Blomkvist is isolated on the island.

That's the basic background of this twisty mystery which engaged millions of readers of the best selling novel by Stieg Larsson. The film has been faithfully adapting by screenwriter Steven Zaillian and director David Fincher who manages to draw out themes and ideas that were barely present in the original story, creating a film that's less about the lugubrious plot than the fascinating characters who inhabit it. It's a vast improvement on the book. But the most outstanding thing about this exciting thriller is the memorable performance of Rooney Mara, with her steely gaze, clipped delivery, jet black hair, bleached blond eyebrows and constant scowl. Her look and performance will linger with you long after the movie is over.

The Girl With The Dragon Tattoo is a bracing, completely absorbing thriller, hopefully just the beginning of two equally ferocious sequels which should be coming along over the next couple of years.