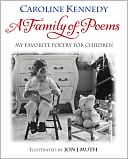 From Publishers Weekly:
Kennedy, who created the anthology The Best-Loved Poems of Jacqueline Kennedy Onassis for adult readers, gives this winsome collection a personal feel. In her introduction, she describes the pivotal role poetry has played in her life and introduces each of the book's sections with relevant anecdotes from her childhood. Throughout her commentary, Kennedy articulately underscores the importance of reading and appreciating poetry and urges children to express themselves through this medium.
She organizes the 106 poems into seven categories, all seminal to a youngster's life, including "About Me," "Animals," "Adventure" and "Bedtime." The expansive range of poets represented include those renowned for their writing for children (A.A. Milne, Robert Louis Stevenson, Jack Prelutsky, Edward Lear) and those whose work has thrilled readers of all ages (Robert Frost, William Wordsworth, T.S. Eliot, Carl Sandberg, William Shakespeare, plus Psalm 23 and Ecclesiastes 3:1-8). Kennedy also selected two thoughtful poems of rhymed verse penned by her mother (credited to Jacqueline Bouvier), one a melancholy ode to autumn, the other an affectionate paean to the seashore. Providing stunning backdrops for these timeless works are Muth's richly textured watercolor paintings, which capture with remarkable insight the spirit of each poem. He is as adept at humor in the "That's So Silly!" section, which teems with clownish characters, as he is dramatic realism in undersea views of octupus or jellyfish. This resonant volume deserves a permanent-and prominent-place on any family bookshelf.