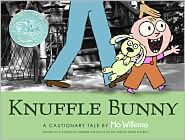 From Publisher's Weekly:
Any child who has ever had a favorite toy will identify with the toddler star of this tale. The plot is simple: Trixie loses bunny, finds bunny and then exuberantly says her first words-"Knuffle Bunny!!!" The fun comes from the details. In an innovative style that employs dappled black-and-white photographs of Brooklyn as backdrop to wickedly funny color cartoons, Willems (Don't Let the Pigeon Drive the Bus!) creates an entertaining story for parents and children alike.
His economical storytelling and deft skill with line lend the book its distinctive charm, while the endpapers mitigate anxiety by clueing in readers concerning the solution to Trixie's problem. Willems renders the characters with Little Lulu-style pointed noses and their expressions are laugh-out-loud funny, from the hapless father's worried look as he and Trixie venture out to the Laundromat, to his roll-up-your-sleeves determination as he rescues the stuffed toy from the washing machine. But it's pre-verbal Trixie who steals the show. Her wide-eyed enthusiasm about the world around her is matched only by her desperate attempts to communicate. "Aggle flaggle klabble!" she says when she finds Knuffle Bunny missing, and her well-intentioned but clueless father translates, "That's right.... We're going home." An especially delicious scene finds the frustrated Trixie abandoning baby talk for action: "Well, she had no choice. Trixie bawled. She went boneless."
The accompanying pictures comically corroborate the omniscient narrator's claim. Willems once again demonstrates his keen insight with a story both witty and wise.