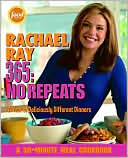 From Publishers Weekly:
Food Network darling Ray wants home cooks to become more "instinctual," and this assortment of quick meals is expansive enough to encourage even novices to wing it. The author hopes readers cook their way through the entire book; to that end, she organizes the recipes not by course or main ingredient (though there are indexes), but by number. The organization takes some getting used to. Helpful but occasionally jarring "tidbits" pop up everywhere, and many "recipes" make more than one dish, so cooking just one requires a fair amount of reading.
For example, number 16 encompasses "Oregon-Style Pork Chops with Pinot Noir and Cranberries; Oregon Hash with Wild Mushrooms, Greens, Beets, Hazelnuts, and Blue Cheese; [and] Charred Whole-Grain Bread with Butter and Chives." Readers making just the hash must read around the instructions for the other two dishes. Still, the recipes are great. They vary in technique and ethnicity, and many give instructions on expanding the dish (after making Spicy Shrimp and Penne with Puttanesca Sauce, for example, "now try" omitting the olives and capers, swapping linguine for the penne, reducing the number of shrimp, and adding lump crab meat and mussels to make Frutti di Mare and Linguine). As Ray would say, "Yummo."