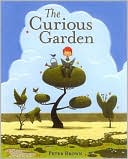 Synopsis
One day, a curious boy named Liam is out exploring his drab, gray city when he comes across a struggling garden. He decides to help the plants grow, never imagining what he is starting. As time passes, the garden takes on a life of its own and spreads across the city, changing everything in its path. Bib by bit, the city is transformed, becoming a lush green world.
The Curious Garden is a magical story about a boy's dream and how the efforts of one small person can help change the world.
Peter Brown is a graduate of the Art Center College of Design in Pasadena, CA and now lives in Brooklyn, NY. His Web site is somebrownstuff.com.