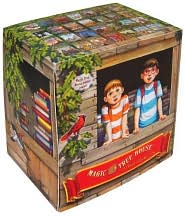 from School Library Journal:
This collection by Mary Pope Osborne contains unabridged readings of Vacation Under the Volcano, Day of the Dragon King, Viking Ships at Sunrise, and Hour of the Olympics (all Random, 1998). Jack and Annie have been appointed Master Librarians by Morgan leFay and must gather books from ancient libraries so that they may be preserved in Camelot. Young listeners travel to Pompeii as Vesuvius erupts, ancient China where an emperor burns books, Ireland as Viking raiders invade, and the first Olympic games in ancient Greece. Along the way, much is learned about the history of bookmaking, the importance of libraries throughout the past, and the similarities and differences between daily life in today's society and that of early world cultures.
Teachers, librarians, and parents are partial to Osborne's emphasis on the power of reading and research to guide Jack and Annie safely through their adventures. Kids love the precarious situations they encounter and their predictably safe resolution. The author narrates the audiobook at a leisurely pace, allowing readers who have recently graduated to chapter books enough time to follow the text in a print copy. Osborne voices Jack and Annie in a childlike manner with just enough variation to distinguish the characters. The slow and steady narration, coupled with the text's dependence on simple sentences and constant "he said, she said" dialogue markers, make this a perfect choice for new readers. Musical introductions and fine aural quality help to make this a sure-fire hit in elementary level collections.