Running Time:
2 hours, 38 minutes
Rating: PG-13 Parents Strongly Cautioned.

Rating Explanation:
for intense disaster sequences and some language.
Additional Info:
DVD Features: Deleted Scenes; Alternate Ending; Roland Emmerich: The Master of the Modern Epic; Commentary with Writer/Director Roland Emmerich and Co-Writer Harald Kloser; "Time For Miracles" Music Video by Adam Lambert.

CAST:
John Cusack ... Jackson Curtis
Amanda Peet ... Kate Curtis
Chiwetel Ejiofor ... Adrian Helmsley
Thandie Newton ... Laura Wilson
Oliver Platt ... Carl Anheuser
Tom McCarthy ... Gordon Silberman
Woody Harrelson ... Charlie Frost
Danny Glover ... President Thomas Wilson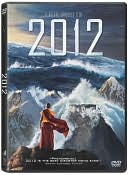 This 158 minute thrill ride was directed by Roland Emmerich who's already made two major disaster blockbusters Independence Day and The Day After Tomorrow. This one cost in excess of $260 million to make. The plot is about a select group of people who are determined to survive and preserve the human race after the major disaster that's coming.

The characters include a failed novelist Jackson Curtis (John Cusack "Being John Malkovich"), a loser whose wife (Amanda Peet "Identity") has left him, taking their two kids, because he paid more attention to his laptop than to his her. Chiwetel Ejiofor ("Kinky Boots") plays Adrian Helmsley, the geologist and adviser to the President, who discovers that because of an alignment between the sun and the planets on December 21, 2012, the earthís crust will begin to melt, dragging the entire civilization with it. Because of his fame, he will get to date Laura Wilson (Thandie Newton "W"), the Presidentís daughter, a match that one feels confident that President Thomas Wilson (Danny Glover "Lethal Weapon") would approve.

Some of the most memorable characters are Woody Harrelson ("No Country for Old Men") who's a riot as Charlie Frost, a nutcase radio announcer stationed in Yellowstone National Park, who warns his listeners to repent, Tom McCarthy ("Meet The Parents") , as Gordon Silberman, Kate Curtisís new boyfriend, perfectly happy to add to her family which already includes her two children fathered by Jackson Curtis, and Oliver Platt ("Frost/Nixon") as the Presidentís ambitious chief of staff, Carl Anheuser. But the real stars of the film are the visual effects wizards who have conspired with director
Roland Emmerich
in creating this mother of all special effects destruction movies. It's quite watchable for the first hour and a half, after that it quickly goes downhill.