Running Time:
1 hour, 32 minutes
Rating: R Restricted. Under 17 Requires Accompanying Adult.

Rating Explanation:
for strong bloody violence throughout, drug content, pervasive language and brief sexuality.
Additional Info:
DVD Features: Closed Caption; Audio Commentary with Director Pierre Morel; The Making-of FROM PARIS WITH LOVE; Spies, Spooks and Special Ops: Life Under Cover; Secrets of Spy Craft: Inside the International Spy Museum; Theatrical Trailer.

CAST:
John Travolta ... Charlie Wax
Jonathan Rhys Meyers ... Reece
Kasia Smutniak ... Caroline
Richard Durden ... Ambassador
Yin Bing ... M. Wong
Amber Rose Revah ... Nichole
Eric Gordon ... Foreign Minister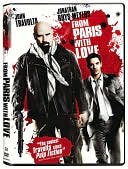 In this action-thriller-comedy, James Reese (Jonathan Rhys Meyers "The Tudors") is enjoying his life as a personal aide to
the U.S. Ambassador in Paris
(Richard Durden "The Heavy"), while also working as a low ranking gofer for the CIA, on the side. Whenever heís not busy with Caroline (Polish actress Kasia Smutniak), his stunning French fiancé, he's dreaming about becoming a bona fide agent with the CIA so he can see some real action. When he's finally offered his first senior-level assignment, he can't believe his good luck - until he meets his new
bald-headed, goateed
partner, special agent Charlie Wax (John Travolta "Saturday Night Fever").

At first Reese and his partner are involved in exposing and wiping out a Chinese drug ring, but they are simultaneously assigned to uncover a terrorist plot. Wax leads James on a series of harrowing chases and encounters with various international villains, James, who's way over his head, soon discovers that the prey they are hunting is him, and despite the discomfort, he finds he needs Charlie to save him. Itís never quite clear exactly what these evil forces, Chinese, Pakistani etc, are up to, but it hardly matters.

It doesn't take long for Charlie Wax to become tiresome with his over-the-top braggadocio, his use of automatic weaponry, and his martial arts skills which leads him to the assassination of over a dozen men, while the uptight Reese is so insipid that he cannot even pull the trigger, even when his life depends on it. Thereís a twist, of course, toward the end, but by that time you don't much care.


As a travelogue,
From Paris with Love
is
enjoyable to watch and never dull, but
director Pierre Morel ("Taken"), working from a story by Luc Besson never really gives us anyone to root for. It's even more chaotic than most James Bond films, and although it has almost as much action. and is nearly as entertaining, John Travolta's over-the-top performance will either make you smile or cringe.